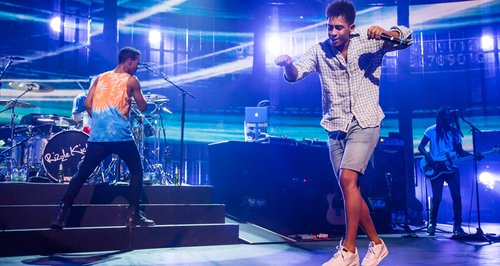 The "Down With The Trumpets" stars performed a lively set at the Roundhouse in Camden (5th September).
The duo celebrated the launch of their second studio album 'Roaring 20s' by headlining at the iTunes Festival. As well as their album launch, the boys, Jordan and Harley were in great spirits owing to their latest single "Lost Generation" being in the UK Top 10 this week. Supporting the boys was local Camden girl, Eliza Doolittle, who is back with her second album, 'In Your Hands' which will be released on October 14th. Eliza started the night off with her new single "Big When I Was Little" and showcased some of her new material as well as other hits including, "Skinny Jeans" and "Pack Up". A seven piece band occupied the stage, as well as Jordan's dad, on guitar. Eliza also joined the boys on stage for a romantic piano performance of "The Reason I Live".
Rizzle Kicks were entertaining and energetic, and made the crowd laugh out loud between songs with their hilarious and cheeky banter, which was no surprise, given their controversial and opinionated nature.
They performed crowd favourites "Lost Generation", "Mama Do The Hump", "Down With The Trumpets" and "When I Was A Youngster" which went down well with their fans whilst also singing some new songs from their album. Highlights include "Jive", "Skip To The Good Bit", "Wind Up", "Put Your Two's Up" and "Me Around You". Their colourful set list shows just how versatile the duo can be. "Me Around You" is a song set around helping a friend through a tough breakup, whilst "Put Your Two's Up" is a dynamic and lively track.
Rizzle Kicks made the night a success and had the crowd buzzing and dancing along, even on one of the hottest days of the year. The Rizzle Kicks put on an amazing show, from their smooth vocals to their smoking hot dance moves and made it a night to remember.
Setlist:
Jive
When I Was A Youngster
Skip To The Good Bit
Wind Up
Lost Generation
Traveller's Chant
The Reason I Live (featuring Eliza Doolittle)
Me Around You
Stop With The Chatter
That's Classic
Mama Do The Hump
Encore:
Put Your Two's Up
Down With The Trumpets
- Evie Chrysostomou
-
MusicVita Review